The most complete spirulina and chlorella algae supplement
The perfect combination for maximum absorption
What are the benefits of Spirulina?
Energy: fights fatigue and tiredness
One of the main uses of Spirulina and Chlorella historically is as an energizer and energizer because of the nutrients it possesses. Their vitamins help maintain physical energy, and regular consumption has been shown to be the solution to anemia and excessive fatigue.
Increases and preserves muscle mass
Spirulina algae contain a much higher protein value than other foods. The chains of amino acids form the proteins that contribute to the development and growth of the muscles, so they help to gain muscle mass.
Detox
Spirulina stands out for its high content of vitamins and minerals. On the other hand, chlorella is the plant with the highest concentration of chlorophyll on the planet, which provides powerful antioxidant properties, and is positioned as an important ingredient in purifying products.
Reduces cholesterol and triglycerides
Spirulina & Chlorella from Nutralie helps to prevent the accumulation of fats in the bloodstream thanks to its hypolipemiant effect, which lowers cholesterol levels and consequently helps to control blood pressure. 
Helps regulate intestinal flora
Spirulina algae have bacteria that help in the digestive process. In cases where the intestinal flora is altered by antibiotics or poor diet, Spirulina is good to control these alterations. Several studies have shown that it increases the intestinal flora, promotes bacterial balance and inhibits the proliferation of Candida.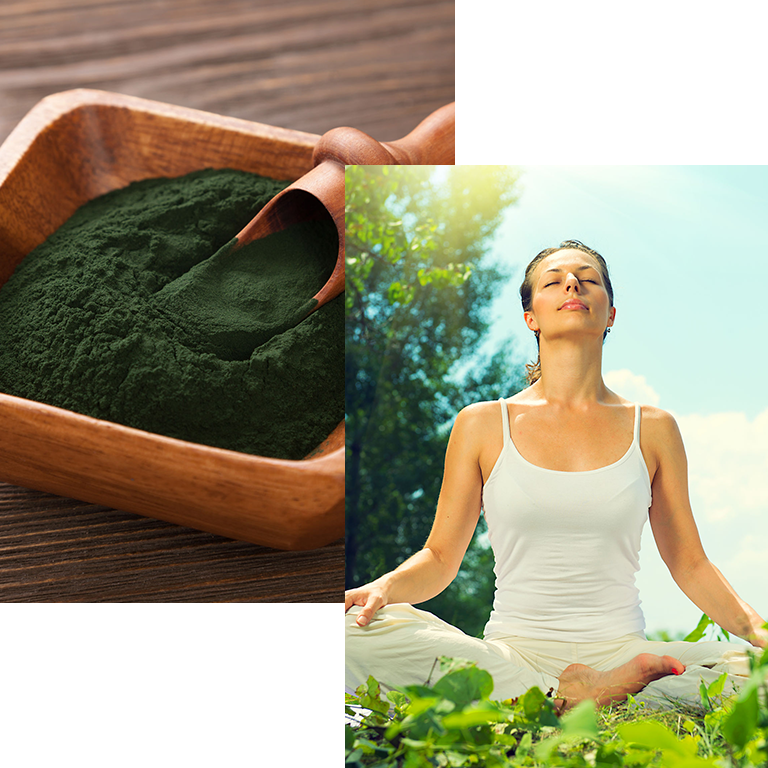 Who is it aimed at?
-People on detox diets: Its content of several ingredients (chlorophyll, high biological value proteins, vitamins, the main minerals, essential fatty acids…) makes Spirulina & Chlorella de Nutralie a superfood with a great depurative power.
-People who want to control their cholesterol: its high content in compounds that derive in fatty acids and omega 6, make it a supplement specially indicated for cholesterol, triglycerides, and in general to improve the blood to avoid arterial problems. This also means a reduction in the risk of suffering from angina pectoris, heart attacks and heart problems derived from excess fats in the blood.
-People who play sports regularly: Spirulina & Chlorella from Nutralie activates the fatigue recovery process after training and also strengthens the system. It has a high iron content, which helps to combat anaemia or iron deficiency in the blood, which causes fatigue and exhaustion. This is due to the excessive combustion required by physical activity, especially in high competition.
-People who want to regulate their intestinal flora: As they contain a wide variety of proteins, they are much more digestible than even meat, so digestions are less tiring. Several studies have shown that Spirulina increases the intestinal flora, promotes bacterial balance and inhibits the proliferation of Candida.
Frequently asked questions